27 November 2018
A one night visit was hastily arranged to make the most of the late autumn birding in North Norfolk. We left Whitminster at 0530 to get a reasonable day's birding in. The foggy conditions didn't help at our first stop in Cambridgeshire, it did clear enough to allow us to look for Rough-legged Buzzards, at least two were wintering at Holme Fen NNR, a site that we've seen them on previous Anser trips. A few Buzzards and Red Kites were noted in the murk, the latter species giving great views in the trees around one farm. A Peregrine whizzed through buzzing a Lapwing on the way. Sparrowhawk and numerous Kestrels proved that despite the poor weather, raptors had to get on with it.
We travelled onward to Norfolk stopping near Guyhirn to enjoy a flock of over 300 Whooper Swans, we arrived at Wells Woods for our next birding walk. Heading to the Dell we searched through mobile tit flocks which revealed many Goldcrests and a couple of Treecreepers, we eventually located the Pallas's Warbler that had been in the area on previous days. As had been noted by other observers this 'sprite' didn't stay in one place for long, we all had great views of the little stunner. We also notes three Redpoll but they flew off without giving us better views. A couple of Little Grebe were on the pond.
Pallas's Warbler at Wells Woods
A Dark-bellied Brent Goose flock was near the football pitch at Wells next the Sea. We headed for a couple of viewpoints over Holkham Freshmarsh where a small flock of Barnacle Geese, a large party of Egyptian Geese, 4+ Marsh Harrier, 2 Buzzards and 2 Great White Egrets were noted. Moving to Land Anne's Drive we scanned the marshes seeing many more Marsh Harriers and a pale Buzzard, from the hide we had closer views of Wigeon flocks and Great White Egret. With the light failing we tried our luck looking out from Wells next the Sea, a few waders were in the harbour but it became dark and the drizzle began to fall, the signal to end our birding for the day. Arrived in good time to settle in to our hotel at Hunstanton with time to relax with a drink and have a decent meal.
28 November 2018
A good breakfast was enjoyed by all followed by our first stop, a scan from Hunstanton Cliffs. Red-throated Divers, Great Crested Grebes, Guillemots, Red-breasted Mergansers and Fulmars were all scoped from the shelter. Our second stop was at Thornham Harbour, we immediately located a flock of finches that contained at least 17 Twite. Goldfinch and Linnets shared the same saltmarsh grass seeds.
Plenty of birds were to be seen, Brent Geese, a variety of waders, wildfowl and gulls were on the beach and saltmarsh with a number of Marsh Harriers soaring over. Scanning the distant dunes I could see a perched buzzard sp that took flight and began hovering, it showed all the features of a Rough-legged but was lazily making it's way east, we relocated to Titchwell RSPB. Without lingering we walked out toward the beach when the juvenile Rough-legged Buzzard rose up in front of us and floated across Volunteer Marsh it was great to see it so well.
Rough-legged Buzzard, Titchwell.
On to the beach where we set up in a sheltered spot behind the dunes and began scanning the sea and beach. Waders included flocks of Sanderling, Oystercatcher, Grey Plover and Turnstone. A smart drake Eider was on the beach before it wandered back into the sea. A very productive hour followed, one of those magic birding moments, a range of species that would attract a lot of interest in Gloucestershire. Totals included 12 Long-tailed Duck (many cracking males were in display), 3 Great Northern Diver, 3 Black-throated Diver, 20+ Red-throated Diver, 3+ Slavonian Grebe, 2 Red-necked Grebe, 25+ Red-breasted Merganser, 24+ Great Crested Grebe, 6+ Guillemot, 1 Razorbill, 3 Goldeneye, a flock of distant Common Scoter and a few Gannets. The scope viewing was really good.
As a parting shot I picked up a dot on the horizon that was worth tracking, it came into id range and proved to be a Woodcock arriving low over the waves from the continent/Scandinavia. The tired bird made it to the dunes, an awesome migration feat.
On the return walk we had good perched views of the Rough-legged Buzzard again, this time being mobbed by Carrion Crows. It was busy with birds on the freshwater scrape and a large of Pink-footed Geese did the decent thing and flew over calling, more were to be seen on the fields with Dark-bellied Brents.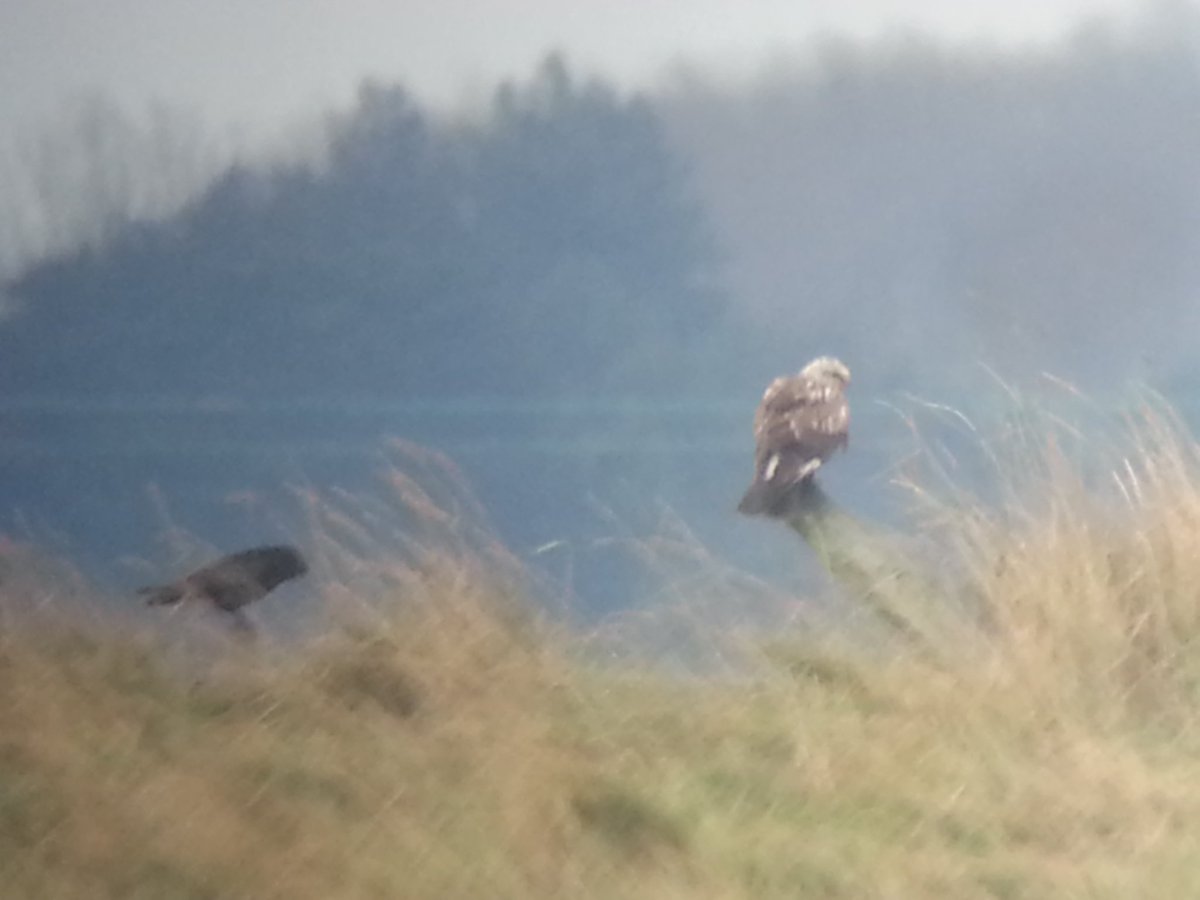 We headed back to the Holkham Freshmarsh again and made a brief scan over the marshes. East of the road single 'winged' Pink-footed and Brent Geese suggested that poor shooting and illegal hunting is still a threat. In the same vein, confiding released Red-legged Partridges couldn't qualify as any form of 'sport' unless shooting fish in a barrel is your idea of a fun day out, the latter didn't make it onto bird of the day nominations. The usual walk out to Holkham Gap and the bay ensued. A flock of Dark-bellied Brent Geese grazed in the saltmarsh, one stood out, showing characteristics of a Black Brant (or Pacific Brent Goose).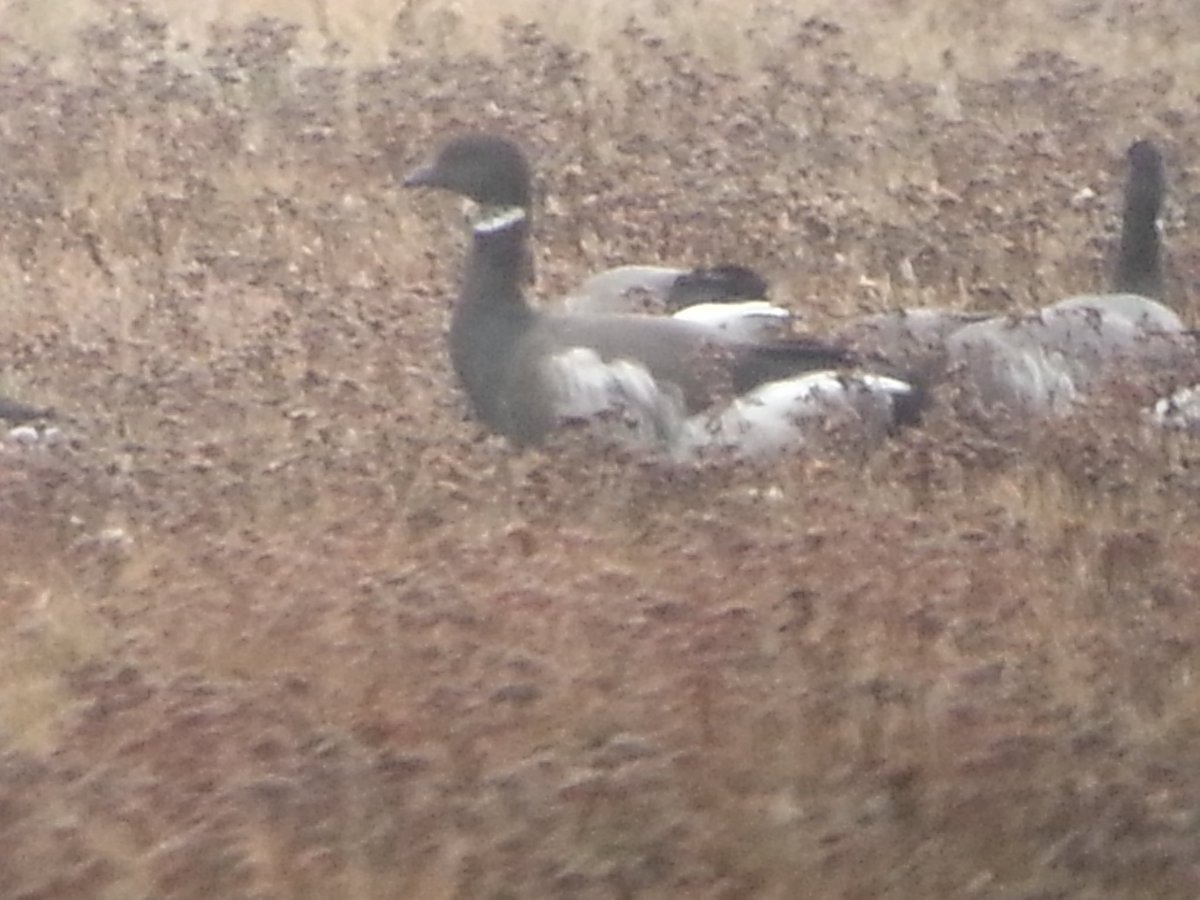 We continued to the roped off area of  saltmarsh, I have to say that this is a great move, it gives these birds an undisturbed feeding area. A flock of 32 Snow Buntings greeted us as they skipped across the sandy beach/saltmarsh area. A feeding party of 13 Shore Lark also showed well. On the beach we enjoyed more sea-duck and divers,  about 30 mostly immature Eiders were present and a very distant flock of 300 Common Scoter.
A short stop at Morston Quay and then onto Cley Marshes NNT visitor centre for hot food and drink and a look over the marshes. We also visited the beach car park where more Common Scoters, Dark-bellied Brent Geese and Gannet were scoped. Out last stop of the day was at Sheringham, plenty of roosting gulls on show but no King Eider, it hadn't been seen for a week but it was worth a try. This concluded the trip so we made the 4.5 hour drive back home. Although it was a short sweet visit, it was brilliant for birds
Martin